Practical Nurse Program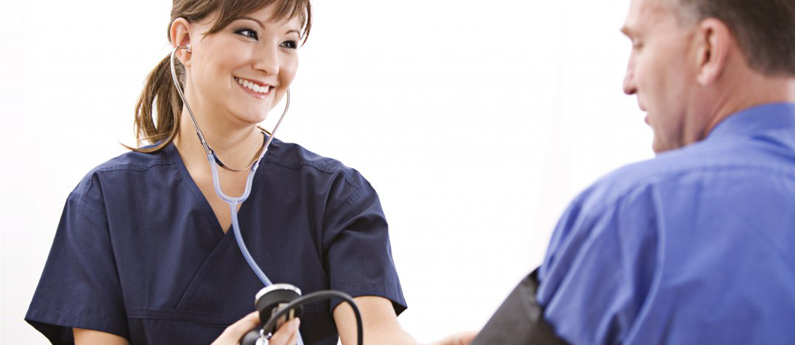 Get the Real World Skills to Become a Practical Nurse in British Columbia
Becoming a Practical Nurse is a rewarding and inspiring career path, ideal for individuals who thrive in fast-paced environments, enjoy working with people and are interested in a career that contributes to the comfort and well-being of others.
The Provincial Practical Nursing Program (PPNP) is designed to provide learners with the knowledge, skills, judgments, and attitudes to perform to the full range of competencies as identified by the College of Licensed Practical Nurses of British Columbia (CLPNBC).
Upon successful completion of the program, learners will possess the competencies to successfully complete the Canadian Practical Nurse Registration Exam (CPNRE). After passing the Canadian Practical Nurse Registration Exam, graduates of this program find themselves highly employable in one of the fastest growing areas in the health care system.
The Practical Nurse Training Program is offered in: Campbell River and Nanaimo.
Practical On-the-Job Training
The philosophy of this Practical Nursing Training Program is based on Discovery Community College's commitment to hands-on training and to graduating work-ready students. By immersing students in a real-life working environment, our programs better prepare you for the transition from classroom to workplace. Upon successful completion of this program, you'll possess the knowledge, skills, behaviors, and sound clinical judgments that will enable you to be successful in a variety of medical settings.
The fun, online quiz takes 3-minutes to complete and you'll get a personalized report. Identify your strengths and social style plus the training and positions you're best suited for. Get Your Career Training Readiness score now.
This program includes:
You'll feel confident making the transition from student to Nursing professional after gaining so much hands-on experience in a real healthcare settings.
Six hundred and ninety hours of practice education – including, practicum experience, clinical experience and preceptorship.
Acute care clinical experience takes place in a hospital, the Residential Care Clinical takes place in a residential or multi-level care facility plus practicum placements take place in a variety of appropriate healthcare settings.
The Practical Nursing curriculum provides a learning experience that is integrated, professional, collaborative, and culturally sensitive with an aim to prepare graduates to care for individuals (and by extension, families of individuals) at multiple life stages and in a variety of practice settings.
Professional Licensing
As a graduate of this program, you will be fully prepared for the Canadian Practical Nurse Registration Exam. Upon successfully passing this exam you will earn the title of Licensed Practical Nurse and will be able to add the letters LPN after your name. These credentials, coupled with the direct-to-patient, on-the-job experience you'll gain during your time at DCC, will make you a highly attractive candidate to potential employers.
With career-focused training and dedicated support from Discovery Community College you could be working in a rewarding Practical Nursing career in less than less than 2 years.
"I was able to practice skills in the classroom due to the small class size and found employment right out of graduation."
– Lee Smith, Practical Nurse Access Graduate

Rising Demand for Practical Nurses in Canada
Our growing and aging population is creating a rising demand for all types of qualified Health Care professionals and Practical Nurses are in particularly high demand. In fact, the Government of Canada projects that "the number of job seekers in this occupation will not be sufficient to fill all the job openings over the 2009-2018 period".
That means that over the coming years in this country there will be more Practical Nursing jobs available than there are trained professionals to fill them. That's good news for individuals getting started in this rewarding field. According to a Working in Canada report, Practical Nurses on Vancouver Island earn an average of $24.72 per hour.
Is a Rewarding Career in Practical Nursing Right For You?
If you're interested in learning more about Practical Nursing and exploring whether this might be the career path for you, fill out the form on this page to receive more information and a FREE Career Info Kit.
Our friendly and knowledgeable Admissions Representatives are happy to answer any questions you have and can help with everything from courses to financial aid.
To speak with an Admissions Advisor right away, give us a call at 1-877-959-3443.
Curriculum Guide – Practical Nurse Access Program