Become a Medical and Dental Office Management Professional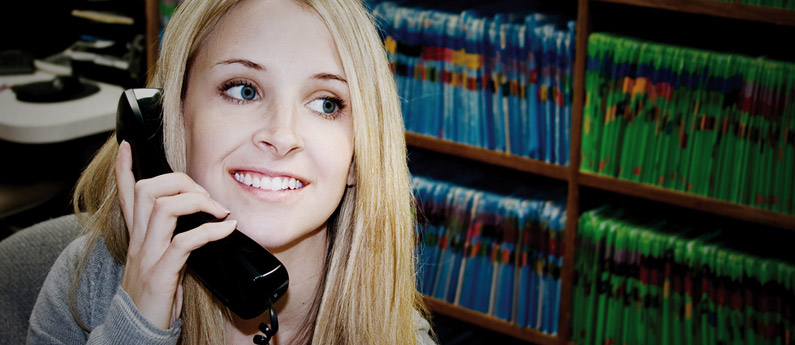 Professional Medical and Dental Office Management Training in as Little as 60 Weeks
To your friends and coworkers, you're "the organized one" – hard-working, detail-oriented, and a team player. Combined with a friendly and positive attitude, these attributes make you the perfect candidate for a career in Medical Office Management.
The Medical Dental Office Management Diploma program from Discovery Community College is designed to give you the skills required to effectively manage a medical clinic, doctors' office, specialists' office or clinic, hospital, chiropractic office, optometry office, dentists' office, or a government-related agency such as public health.
This program is offered in: Campbell River, Nanaimo, and Surrey.
This program has been reviewed and approved by the registrar of the Private Training Institutions Branch (PTIB) of the Ministry of Advanced Education, Skills & Training.
Convenient Morning & Afternoon Classes Available.
Hands-On Training: The "Learn by Doing" Philosophy
At Discovery, we believe in learning by doing. The work of a Medical Office Manager is often varied, ranging from office correspondence and billing procedures to staff scheduling and patient interviews. Because of this, our programs train our students in a wide variety of office management skills, in both independent and team environments.
In order to earn the Medical Dental Office Management Advanced Diploma, students must complete all three Computerized Business Applications (CBA), Accounting and Finance (AF), and Medical Dental Applications (MDA) programs.
As a successful graduate of this program, you'll enter the professional world with confidence, knowing you have the medical administration, bookkeeping and accounting, and professional office skills to succeed in your chosen field.
The best way to see if Discovery Community College is the right fit for you is to see it for yourself. You can tour our facilities, get all your questions answered, and meet with both students and instructors. Schedule a Tour Now or Get more info.
"Going back to college was one of the better decisions I have made. My experience at Discovery College has been an exceptional one."
– Darshan Bains, Medical Dental Office Assistant Graduate

Is a Rewarding Career in Medical/Dental Office Management Right For You?
If you're interested in learning more about becoming a Medical/Dental Office Manager and exploring whether this might be the career path for you, fill out the form on this page to receive more information and a FREE Career Info Kit.
Our friendly and knowledgeable Admissions Representatives are also happy to answer any questions you have and can help with everything from courses to financial aid.
To speak with an Admissions Rep right away, give us a call at 1-877-315-5241.