Get the Skills to Become a Dental Receptionist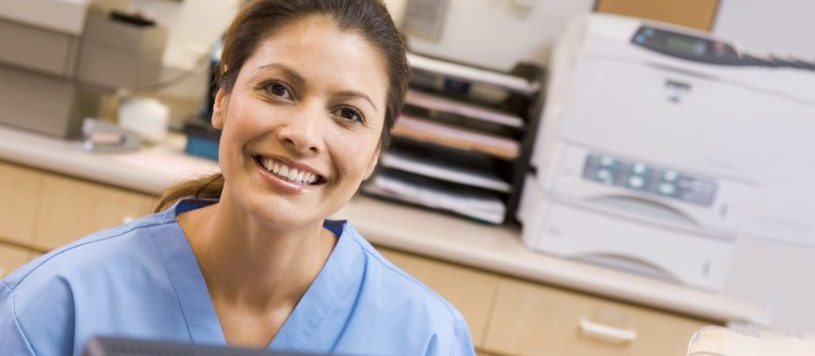 Professional Dental Reception Training in as Little as 19 Weeks
Dental Receptionists play an essential role in managing a dental office's administrative operations and serving as the first point of contact for patients. By taking care of administrative duties, they allow dentists and dental hygienists to focus on patient care.
If you're organized, enjoy working with others, and are looking to get established in a steady professional career, you could be well-suited to succeed as a professional Dental Receptionist.
Nov 13th

Dental Reception

: Dental Reception

Discovery Community College - Online

Interested in starting a rewarding career in the dental industry? In as little as 19 weeks, you'll receive the medical knowledge and technical skills needed to succeed as a Dental Receptionist.

https://discoverycommunitycollege.com/wp-content/uploads/2023/06/dental-office-e1686667506140.jpg

Discovery Community College
The best way to see if Discovery Community College is the right fit for you is to see it for yourself. You can tour our facilities, get all your questions answered, and meet with both learners and instructors. Schedule a Tour Now or Get more info.
Why Upskilling is Essential in Today's Job Market
Like many Canadians, you may be concerned about the rising cost of living and the need to find ways to increase your income potential. If you're looking to stay ahead of the curve, training to obtain new qualifications could be a great solution.
Discovery Community College is dedicated to offering convenient, supportive, and affordable career training. With a range of funding options available, there has never been a better time to invest in upskilling. Contact us today to learn how we can help you get ahead in today's job market.
Dental Reception
19-Week Diploma | $47,715 median annual salary*
Expected Job Openings in BC (2022-2032): 2,000**
Occupations include Dental Receptionist, Dental Office Assistant
NOC – 13112
*https://www.jobbank.gc.ca/marketreport/wages-occupation/24401/BC visited on July 10, 2023. Wage source for medical administrative assistants in British Columbia with the lowest 10% earning $39998 to the highest 10% of workers earning $62400.
**https://www.workbc.ca/career-profiles/medical-administrative-assistants visited on July 10, 2023.
Becoming a Qualified Dental Receptionist
If you're looking for a rewarding and fulfilling career, look no further than a career in dental reception. At Discovery Community College, we're proud of our history of trainee success, including our 96% job placement rate.
During this program, you will learn:
Dental Terminology
Client Records
Dental Office Procedures
First Aid
And more!
Upon successful completion of this program, you will possess the skills, knowledge, and attitude of an entry-level Dental Receptionist to successfully begin your career in dental practice.
There has never been more funding for career training than there is right now. A variety of funding opportunities may be available to you, including WorkBC, Student Aid BC, and employment grants. An experienced Financial Aid Representative is available to answer any questions you may have, can assist with potential funding applications and help you discover the best options for your specific needs.
Orientation Courses:
GO 901 Get Oriented (20 hours)
IT 701 Introduction to Computers (60 hours)
ES 501 Employability Skills (20 hours)
Subtotal: 100 hours / 5 weeks
Dental Reception Theory Courses:
DR 100 Business Communication (60 hours)
DR 101 Dental Terminology (60 hours)
DR 102 Client Records (60 hours)
DR 103 Dental Office Procedures (60 hours)
Subtotal: 240 hours / 12 weeks
Practicum:
2 weeks, 4 days a week, 8 hours per day Subtotal: 64 hours / 2 weeks
Total program: 404 hours / 19 weeks
Dental Reception Program
After completing this program, you will have the skills, knowledge, and attitudes of entry-level dental receptionists to successfully begin their careers in dental practice.
Ready-to-work graduates of the Discovery Community College Dental Reception Program will have the following entry-level competencies to practice as a dental receptionist:
Theoretical knowledge of the oral cavity for educating patients, scheduling appointments, billing dental services, and communicating with health professionals.
Practical skills in keyboarding, business communication, conflict resolution, accounts receivable and payable, maintaining patient records, inventory control, and appointment scheduling using dental software.
Professionalism as demonstrated by the ability to communicate and work collaboratively with the oral health care team.
Maintain patient confidentiality and privacy.
This program is offered over 19 weeks, exclusive of statutory holidays. Trainees attend online classes 20 hours per week. Practicums, which are held in private dental practices, are based on an eight-hour workday.
Practicums may occur anywhere in the Lower Mainland and Fraser Valley. Learners must supply their own transportation.
Applicants will complete a first aid workshop during the program.
Practical "On-The-Job" Training
As a learner in the Discovery Community College Dental Reception program, you'll train hands-on during a 2-week practicum at a variety of private dental practices in the community. Practicums are an excellent way to gain real-world experience, make important industry connections and try different aspects of the profession before you complete this program.
Successful ready-to-work graduates of this program enter the professional world with confidence, knowing they have both the theoretical classroom skills and the hands-on, practical experience to make a real difference in their new career. With career-focused Dental Reception training and dedicated support from Discovery Community College, you could be working in a new career in less than a year.
High Placement Rate
Discovery College has a 96% job placement rate.** That is because we assess employment gaps within the community and then tailors the programs around that, giving you the exact skills that employers are looking for to fill their vacant positions.
Convenient Learning Options
At Discovery Community College, you don't have to put your life on hold to start career training. We offer accessible learning including on-campus, online and blended on-campus and online learning options.
Many of our learners are raising families and some continue to work while training. We will help you choose a schedule that works for you.
International Learners
As an international learner training at Discovery Community College, our co-op based training programs allows you to gain real-world experience in the community with a cooperative work experience placement upon completion of the program.
Almost 35 Years of Success
Discovery Community College has been training learners just like you for successful careers for almost 35 years. Our college is a well-respected institution, who has formed alliances with numerous community partners. We are also registered with and designated by the Private Training Institutions Branch of British Columbia, formally PPSEC, since 1996.
Is a Rewarding Career as a Dental Receptionist Right for You?
If you're interested in learning more about Dental Reception training and exploring whether this might be the career path for you, fill out the form on this page.
Our friendly and knowledgeable Career Advisors are also happy to answer any questions you have and can help with everything from courses, to job outlook, to helping you find ways to reduce, or even pay for, your tuition.
To speak with an Admissions Rep right away, give us a call at 1-877-315-5241.