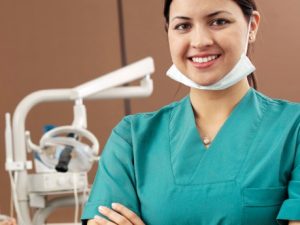 In BC, it's possible to become a dental assistant without any formal training, but is it wise to do so? Dental assistant certification has a number of excellent advantages over on-the-job training; here are 5 reasons why you may want to consider taking training to boost your dental assistant qualifications from Level I (dental assistant) to Level II (Certified Dental Assistant or CDA).
Reason #1: Variety
Dental assisting, even at the entry level, is a job with plenty of variety. All dental assistants are responsible for:
greeting patients and preparing them for the dentist
maintaining accurate patient records
preparing the treatment room and laying out dental instruments
scheduling appointments
sterilizing instruments and equipment
helping the dentist chairside during an examination
administering fluoride
developing X-rays
A CDA can do much more on the clinical side, including working inside the mouth with duties such as:
taking X-rays
applying sealant
attaching and removing rubber dental dams
applying topical anaesthetic
making temporary crowns
taking impressions for diagnostic casts
monitoring patients' vital signs
If being more hands-on with the clinical side of dental work interests you, then certification is the way to go.
Reason #2: Recognition
The recognition that comes with being a Certified Dental Assistant may seem like an intangible benefit, but you will notice the difference in the office and at professional events. Having certification from the College of Dental Surgeons of BC (CDSBC) shows that you take your career seriously. It also means that you are eligible for continuing education credits at lectures and conferences that offer them.
Reason #3: Pay
The pay for dental assistants in British Columbia starts at approximately $18/hour at the low end, and can reach as high as $30/hour, according to the WorkBC.ca website. These statistics include both Level I and Level IInon-certified and certified dental assistants, and CDAs are at the higher end of this wide salary range.
Reason #4: Employment opportunities
Because CDAs offer a much broader range of skills, as well as a recognized standard of training, most job openings specify that they would like a Certified Dental Assistant. Furthermore, you gain excellent experience in a 10-month training program such as the one that Discovery Career College offers. This hands-on experience gives you the confidence to shine in a job interview.
Reason #5: Bridge to further career development
You may consider furthering your career over the long term in order to become a dental hygienist, or dentist. You can even decide to specialize and become an orthodontist or oral surgeon. The hands-on clinical experience you gain as a CDA student will help you achieve your career goals and could provide a steady source of income to support you in your studies.
Do you want to learn more about the difference that a dental assistant certification makes?
Discovery Community College offers a focused, hands-on dental assisting program that you can complete in 10 months. We're proud to have one of the highest graduate employment rates in North America – a 96% rate in 2012! In fact, many of our graduates are hired directly from their practicums.
If you think that becoming a Certified Dental Assistant could be in your future, then learn more about our program here. You can also make an appointment to talk to one of our helpful admissions staff. We'd love to hear from you!