Dental assisting can be a rewarding career path for those interested in oral health and hygiene. Dental assistants provide a valuable service, caring for patients while also helping dentists manage various instruments and supplies during the patient's treatment.
If you're someone who enjoys working with and helping others, then a future in dental assisting might be a great fit for you. Through a combination of classroom theory and clinical practice, your training will equip you with key insights and practical skills that can help you succeed in the field. This type of real-world experience directly prepares you for employment, allowing you to launch your career and reap the benefits of your hard-work and efforts.
This blog post will introduce four reasons why becoming a dental assistant can be the right path for you!
1. Working in a Fast-Paced and Collaborative Environment
The dental office environment can be an exciting place to work, with new tasks and responsibilities adding variety to your day. As a dental assistant, you'll be trained for both intra-oral duties as well as extra-oral duties—allowing you to cover both administrative and clinical tasks. This can make your day-to-day routine feel more dynamic and interesting.
In this fast-paced environment, collaboration is important. Dental assistants can work with other dental assistants as well as dentists and dental hygienists. Through teamwork, you can provide the patient with the best experience possible while learning from others and benefiting from a supportive environment.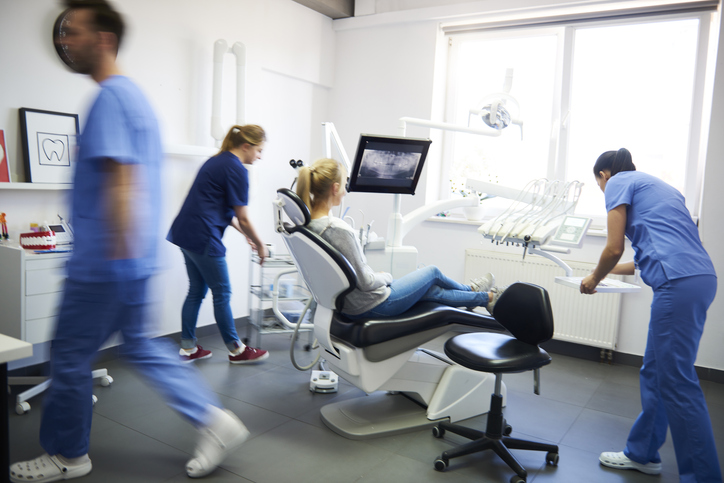 2. Gaining Personal Satisfaction by Pursuing a Rewarding Career 
Dental assistants are responsible for helping dentists perform various treatments as well as teaching patients about oral hygiene. By taking on an educational role, dental assistants can make a big difference in a patient's current and future oral hygiene habits—guiding them towards better decisions that improve their oral health. 
Being able to help others and make a meaningful difference in their health throughout your dental assistant career can be very satisfying. Knowing that you're helping people look and feel healthier can provide you with a sense of accomplishment, making your job more rewarding. 
3. Opportunities for Career Growth When You Become a Dental Assistant
Individuals interested in dental assisting can explore careers right after their training, which can take as little as 60 weeks to complete. At Discovery Community College, you'll be able to gain real-world experience and valuable skills—along with the opportunity to get hired directly from your clinical practicum.
As dental assistants are exposed to a wide range of tasks, they can hone a unique skill set that allows them to advance their career. For instance, after spending more time in their role and completing certain prerequisites, some dental assistants can choose to become dental hygienists or dental office managers. In this way, your career as a dental assistant can be just the beginning of exciting new opportunities.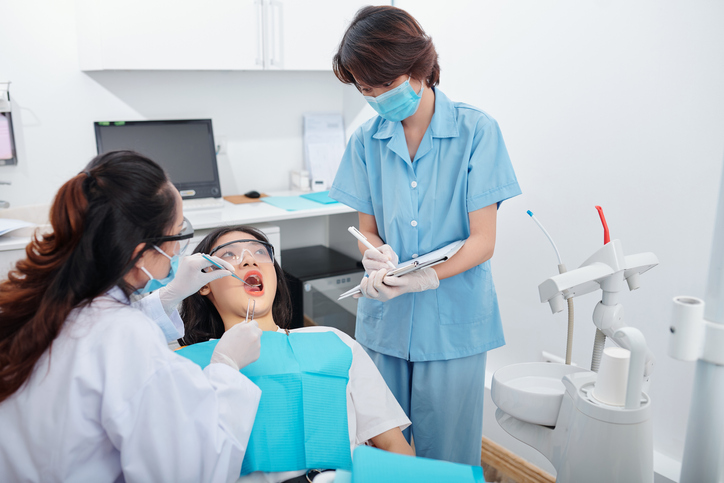 4. Job Security After Completing Your Dental Assistant Training
Job security is an important factor to consider when starting a new career. According to the government of Canada's Job Bank, the employment outlook is favourable for dental assistants in B.C., particularly as employment growth leads to new open positions. 
Interestingly, data has revealed that about 72% of dental assistants work full-time while the remaining 28% work part-time. After attending the dental assistant level II program, you'll be well-prepared to explore new work opportunities either full or part time launching a new career in this growing field. Ultimately, you can enjoy both professional and personal growth opportunities as you progress in your field, and contribute to the health and well-being of others.
Do you want to become a dental assistant?
Contact Discovery Community College for more information!