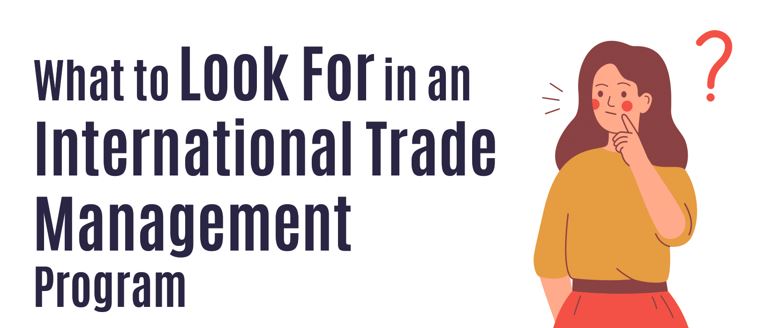 For those who are globally minded, international trade management is an exciting career path to consider. Consumers and companies all across Canada rely on global services and products, and thus, they rely on professionals who can guarantee that these products are delivered safely, securely, and ethically.
Today, those who graduate from an international trade management program are joining a dynamic field. Their international perspective informs their work in areas such as supply chain coordination and logistics, freight forwarding, freight brokering, customs brokering, buying/purchasing, and more. Their work includes preparing documents in compliance with customs regulations, arranging payment, advising clients on restrictions and tariffs, route planning, storage coordination, etc.
If you think that this field could be right for you, you'll want to choose an international trade management college that will prepare you for a successful career. Here's what you should look for when choosing a program.

What to Look for in an International Trade Management Program
Finding the right international trade management program doesn't have to be difficult. Here are some key factors you can look for to determine the right program for your needs.
1.Industry Experience
Your international trade management program should help you gain hands-on experience.
Withthe diploma program at Discovery Community College, students complete a 4-week internship, allowing them to:
Apply their classroom knowledge to real-world situations
Build connections in the industry
Put experience on their resume
Have confidence in their capabilities
2. Relevant Endorsements
Look for a program that is endorsed by relevant organizations in order to ensure that you're getting training that industry professionals will recognize.
Discovery Community College's International Trade Management program is endorsed by:
The World Trade Centers Association
Export Development Canada
The Canadian International Freight Forwarders Association
3. Important Certifications
Get the most out of your training. The more qualified you are, the easier it will be to establish your career.
By completing your diploma program at Discovery Community College, you will earn THREE diplomas/ certificates:
Advanced Diploma in International Trade Management & Freight Forwarding
FITT Diploma in International Trade
CIFFA Certificate in International Freight Forwarding
Graduates also fulfill the educational requirement to become a Certified International Trade Professional (CITP), which:
Affirms graduates' experience and knowledge of International Trade practices
Helps graduates to land better jobs in their field
Holds graduates to ethical, global standards for conducting business
4.Courses With Your Priorities in Mind
No one wants to waste their time. At Discovery Community College:
Students benefit from small class sizes
Electronic course materials make following along easy
Instructors are experts in their industry
You'll complete your training in less than a year
How easy is that?
Check out Discovery'sInternational Trade Management program to get started today.