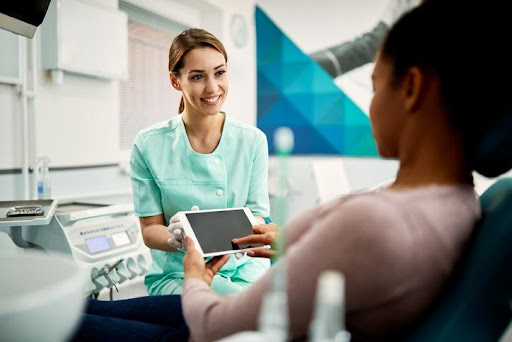 If you're considering training to become a dental assistant, you might have pictured yourself supporting the work of dentists within traditional dental offices. However, within the field of dentistry, there are many different opportunities for specialization. During your dental assistant program at Discovery Community College, you'll learn more about the various specializations within dentistry, including Periodontics, Prosthodontics, Orthodontics, Pediatric Dentistry and more. If you're particularly interested in a certain specialty during your training, you might choose to pursue positions as a dental assistant working with practicing dentists in that particular field. While the nature of the work may vary, the foundational knowledge and skills that you build during your training will equip you to explore these specialized dental assisting opportunities.
Here, discover some of the different specializations in dentistry to begin thinking about whether you might like to pursue a career in these fields as a dental assistant.
After Dental Assistant Training, Consider Working in Periodontics
Periodontics is an area of dentistry that's focused on the gums and the bones that surround the teeth. Periodontists work to diagnose and treat gum disease while taking preventative measures such as warning patients of potential gum problems. During your dental assistant career, working with periodontists may involve assisting with dental exams, supporting nonsurgical treatments such as root planing and scaling, or supporting surgical treatments such as gum grafts, dental implants or other regenerative procedures to support healthy gums and bones.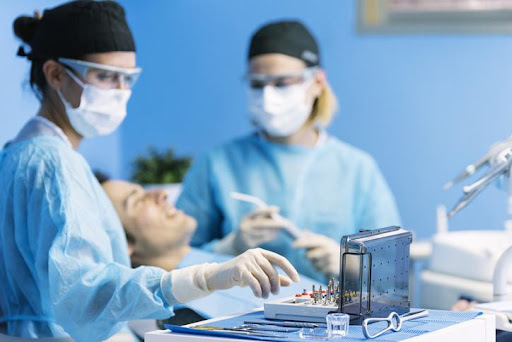 Orthodontics and Dentofacial Orthopedics
If you've always been fascinated by the process of correcting structural alignment issues in the mouth, a career assisting orthodontics or dentofacial orthopedics could be right for you. Orthodontists work to correct structural problems with the teeth, including overbites, underbites, gaps, crooked teeth and more. Using braces and other types of aligners, they create the perfect smile for patients while keeping their teeth healthy. On the other hand, dentofacial orthopedics work specifically with bite problems, managing the growth of the jaw and other facial bones in young children to correct alignment problems. As a dental assistant in these fields, you'll be assisting with different procedures and examinations to correct any abnormalities.
Prosthodontics
After dental assistant training, entering the field of prosthodontics will mean working with artificial devices in order to restore or enhance the appearance of a patient's smile. Prosthodontists specialize in treating cosmetic or related oral health concerns. These professionals work with patients who are missing teeth and require replacements, whose natural teeth need repairing, or who seek to change the look of their smile. As a dental assistant, you'll be assisting periodontists in procedures in which dentures, dental implants, crowns or caps are applied to a patient's teeth.
Pediatric Dentistry
Do you love working with children? As a dental assistant, you'll have the perfect opportunity to care for children when you pursue a career in pediatric dentistry. Pediatric dentists specialize in the oral health concerns of infants and children, providing consultation, diagnosis and treatment for the oral health problems they may encounter. Children are more prone to cavities in their primary teeth, and in order to ensure a lifetime of healthy oral function, the work of pediatric dentists is essential. Working alongside pediatric dentists as a dental assistant, you'll get to educate children on the importance of proper oral hygiene while supporting pediatric dental procedures.
Considering dental assistant college?
Learn more about your options with a program at Discovery Community College!