Are you looking for a rewarding career where you can help others and make a difference? A career in practical nursing could be for you. Even before the outbreak of the coronavirus in Canada, practical nurses were working hard in hospitals, clinics, nursing homes, and more to help patients affected by physical and mental health problems. 
COVID-19 has put increased pressure on every aspect of the healthcare sector. Doctors, nurses, practical nurses, and other healthcare workers are on the frontline day and night working tirelessly to save lives and manage the spread of the virus. 
Read on to find out some of the ways that graduates are tackling the coronavirus. 
Practical Nurses Are Helping to Care for Others During this Difficult Time
Throughout history, healthcare professionals have worked hard to care for those in need. Whether working in war-torn areas, places of poverty, or other difficult situations, these dedicated professionals can be found where people need it most. During the global pandemic, citizens are being advised to stay at home and social distance as much as possible in order to avoid contracting the virus. 
However, after graduating from nursing school, you may be required to work on the front line in nursing homes and hospitals. There are a number of steps that healthcare facilities can take to minimize the risk to practical nurses and allow them to fulfill their duty of care safely. 
Graduates with Practical Nurse Training Wear Extensive Personal Protective Equipment 
One of the ways that practical nurses can protect themselves and others from coronavirus is by wearing extensive personal protective equipment (PPE). All healthcare workers who expect to have contact with others should have access to:
Gloves 

Eye protection such as a face shield or goggles 

Isolation gowns 

Medical masks 
It is important for those with practical nurse training to know the correct way to use this equipment. According to the World Health Organization, coronavirus can be spread through "contact with contaminated objects and surfaces". This means that the virus can exist on PPE, so practical nurses should make sure to change their PPE gear after being in contact with patients that could be positive for COVID-19.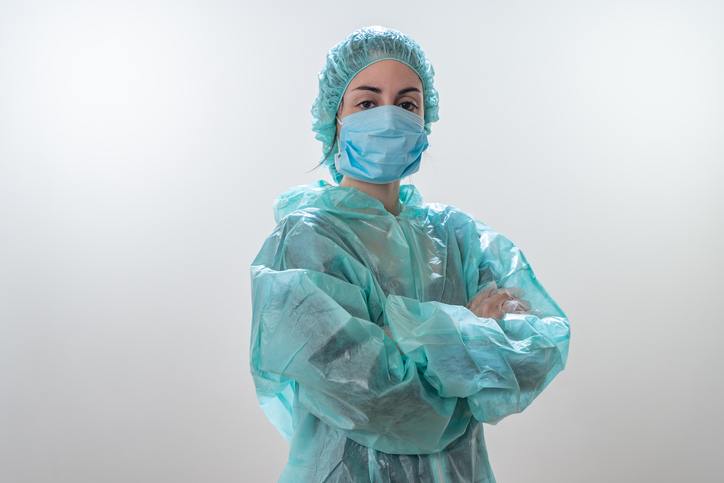 New Isolation Processes in Hospitals Are Being Implemented and Followed
Healthcare professionals in hospitals have had to implement new isolation processes to stop the spread of the coronavirus among patients. A number of hospitals across Canada have created designated isolation areas and allocated certain healthcare staff to these areas. Any patients that have tested positive for coronavirus or do not pass the screening test are kept in a separate area so that they do not transmit the virus to other patients or healthcare workers.
These infection control measures can mean that it takes longer to provide care to patients. This means that more staff may be needed in hospitals where patients are being admitted with the virus. 
After practical nurse training, you could have the chance to make a difference during this global pandemic. 
Do you want to find out how to become a practical nurse?
Contact Discovery Community College today!