Success Matters!
Discovery Community College has helped thousands of people just like you get the training and credentials it takes to succeed – personally and professionally. We invite you to explore the program and career options we offer. Our friendly admissions staff are always available to answer all your questions.
Discovery students learn by doing. The hands-on, practical training fuels our focus on graduating fully-qualified, work-ready professionals in a short period of time. You can be earning more money in a career you care about – without spending years in a classroom.
Not only that, but 95.5% of Graduates find employment (2017 Grad Reporting)!
Congratulations to Sunmi Kim, FITT Student of the Year 2017!
For the fourth year in a row, students in Discovery Community College's International Trade Management Program have won the Forum for International Trade Training (FITT)'s Student of the Year Award. This year, the national award was given to Sunmi Kim, a 2017 alumni. This prestigious award is only given to one student in the country, and highlights the knowledge and dedication of our students. It also shows how Discovery's programs prepare students well for success in their future careers.
Learn more about the business management opportunities you can pursue in the International Trade Management here.

We Train Award-Winning Professionals
Discovery Community College is the choice of driven, hard-working students who want to put their best foot forward in the industry. So driven, in fact, that our students have won FITT's National Student of the Year Award four years in a row!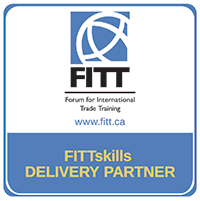 Congratulations to:
Sunmi Kim
Recipient, 2017
Satyajeet Kumar
Recipient, 2016
Wendolin Lopez Rebaza
Recipient, 2015
Mohammed Tahir
Recipient, 2014
Choose a Program


Discovery Community College has seven campuses on Vancouver Island and the lower mainland including: Campbell River, Courtenay, Parksville, Nanaimo, Maple Ridge & Surrey.
Visit the Locations Page for more info.