Get the Skills to Become a Level II Dental Assistant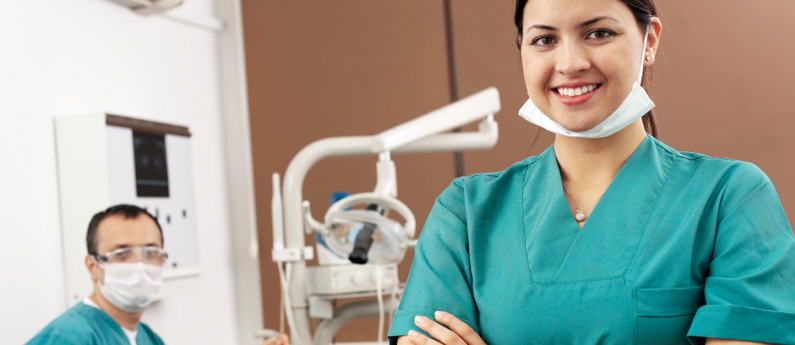 Professional Dental Assistant Career Training in as Little as 60 Weeks
The Dental Assistant II Program from Discovery Community College provides the specialized hands-on training, practical experience, and necessary clinical skills it takes to become a professional Dental Assistant. As a graduate, you will be eligible to complete the National Dental Assisting Examining Board (NDAEB) written exam and their Clinical Practice Exam (CPE).
Delivered by industry experts, our comprehensive program combines classroom theory and clinical practice in our fully equipped on-site dental clinic. During your training, you will also work with real dental patients. And in your end of program Practicum, you will complete your training working in a busy dental practice. As a successful graduate you will enter the professional world with confidence after gaining so much "real world" experience working with actual patients.
This program is currently being offered in: Surrey.
This program has been reviewed and approved by the registrar of the Private Training Institutions Branch (PTIB) of the Ministry of Advanced Education, Skills & Training.
Success Matters!
At Discovery, we know that going to school isn't just about getting a Diploma – it's about getting a great job. At Discovery we are proud to have one of the highest graduate employment rates in North America. Many of our graduates are hired directly from their practicums!
The best way to see if Discovery Community College is the right fit for you is to see it for yourself. You can tour our facilities, get all your questions answered, and meet with both students and instructors. Schedule a Tour Now or Get more info.
"I can proudly say that going to Discovery was one of the greatest choices I have made in my life. Now I not only have a job, but a career which I am proud of."
– Ana McManus, Discovery Community College Graduate

What Can You Earn as a Dental Assistant?
According to Certified Dental Assistants of British Columbia, the average hourly wage for Dental Assistants in B.C. is $24.67.
Is Becoming a Dental Assistant Right for You?
If you're interested in learning more about Dental Assisting and exploring whether this might be the career path for you, fill out the form on this page to receive more information. Our friendly and knowledgeable Career Advisors are happy to answer any questions you have and can help with everything from courses, to job outlook, to helping you find ways to reduce, or even pay for, your tuition. To speak directly with a Career Advisor, give us a call at 1-877-315-5241